Spinning is the process of making yarn, one of the basic raw materials for the weaving and knitting industry. Being the leading yarn Suppliers, the production of high-quality yarn that will improve competitiveness and increase yarn prices is a core objective of the company.
WHY 
US
Our state-of-the-art spinning facility covers an adequate range of yarns. We have an ultramodern automated setup and high-speed ring frames, armed with 34,000 spindles producing approximately 16,500 tons per year. The facility has REITER for the back process and TOYOTA for the ring frame.
Being the most trusted yarn suppliers, we have reduced 50% of cotton waste in the process, from 15% to 8% in Pak cotton and from 10% to 5% in American cotton, by incorporating new sustainable methods.
Product
Flexibility & Range
Being flexible and innovativeyarn suppliers, we offer the most innovative solutions. We offer carded as well as combed yarn with count range as follows: high uniformity, evenness, and low IPI in our woven products.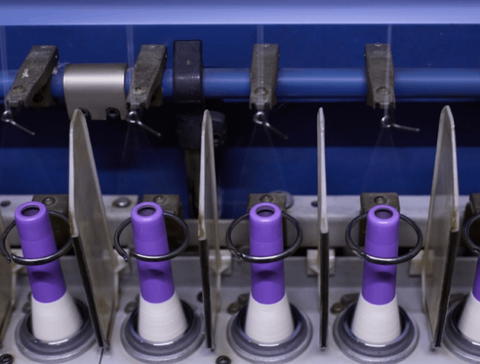 We offer a variety of yarns such as recycled cotton, recycled polyester, BCI, Modal and Tencel blends, open-end, ring-spun, slub, core spun, Cairo, slub core spun, and intimate blend. Our commitment to offering the best fabric and Textile products makes us the most trustedyarn manufacturerin the country and abroad.
Cotton
carded and combed
6/1 to 30/1
PC and CVC
carded and combed
10/1 to 40/1
SPANDEX
carded and combed
10/1 to 20/1
Optical bright poly/cotton, nylon/cotton
carded and combed
10/1 to 40/1
100% polyester & 100% nylon
carded and combed
10/1 to 40/1
Open end pc /CVC
carded and combed
carded and combed